Siamo spiacenti, questo sito Web è in fase di traduzione e il tedesco non è ancora disponibile. La pagina verrà visualizzata in inglese
Free, simple, quick and especially… anonymous
Engagement
(Questionnaire 1)
360 classic
(Questionnaire 2)

360 mutual
(Questionnaire 3)
Choose from these 3 types of questionnaires.
Easily create questions to ask those you want to know their opinion.
The interface is intuitive, it's easy and fast.
The respondants will receive an email allowing them to answer anonymously and securely.
Once the scores are collected, the evaluated people will be alone to receive a confidential email that indicates their personal score.
How it works
a 5-step process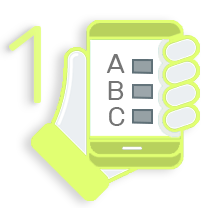 SET
SURVEY
Test the simulation
Choose survey type and enter its title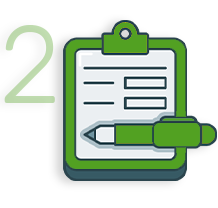 WRITE
THE QUESTIONS
Test the simulation
Define the dimensions to be evaluated and the rating system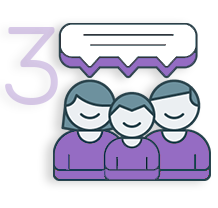 ADD
RESPONDENTS
Test the simulation
Define who will express their opinion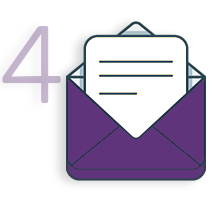 SEND
INVITATIONS
Test the simulation
Set options and response time before sending each respondent a confidential email that recalls the rules of the game and privacy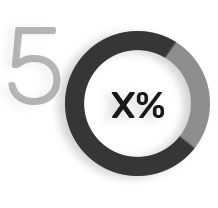 DISCOVER
YOUR SCORE
Test the simulation
Once all the answers are received or the deadline is set, each evaluated person receives a confidential email with a link to his personal scores
Confidentiality
Guaranteed Anonymity

INVITATION WITH A PERSONAL URL
Each respondent receives an invitation with a personal url-link to the survey that is associated with the respondent email address
RESPONDENTS ARE INFORMED
Tes respondents are informed in the invitation of who will see the average results. Viewers of the results cannot be changed once the invitations have been sent

SAFE STORAGE OF VOTES
As soon as the respondent has posted her/his vote, the answers are stored in separate Management Boosters database which does not contains any link to the respondent.

ANONYMOUS RESPONDENT
Since the answer is stored without any linkage with the respondent, nobody can know who has answered/voted what

SECURED ANSWERS
By default, the answers are totally anonymous -- even in the very unlikely event that Management boosters' database gets hacked NO LINKAGE
We can therefore technically guarantee that there is no linkage between the answer and the one who gave it (the respondent)
AGGREGATED VOTES
All the votes are aggregated so that the person being evaluated can only see the avarage result for each question in her/is report

SAVED FOR LATER COMPARISON
If comparison over time is desired, the average results for the person beoing evaluated can be stored in our database, and of course without any indication of who voted
Let's Stay in Touch.
Subscribe to our newsletter to discover the news,
receive tips for use and other useful surprises
About

 EazyMirror 

Further information
Contact us
This site has been created by a group of 4 ''students'' (Benoît, Roberto, Lionel et Daniel) of Romandie Formation's MicroMBA on the idea from Management Boosters.


 EazyMirror 

is now managed by Getratex SA, a Swiss company active since 1957

Web App programming:

FAQ
Privacy Policy
Data Protection

For help or questions, click this button

About

 EazyMirror 
This site has been created by a group of 4 ''students'' (Benoît, Roberto, Lionel et Daniel) of Romandie Formation's MicroMBA on the idea from Management Boosters.


 EazyMirror 

is now managed by Getratex SA, a Swiss company active since 1957

Web App programming:
Further information
FAQ
Privacy Policy
Data Protection
Contact us
For help or questions, click this button

© Copyright EazyMirror 2021